Startseite
| In Ihrem Warenkorb:
0
Artikel,
0,00
EUR
Problem with the database
Hi,
in this moment there is a problem with the import of the gpx-files in the database of mysports.
In the history there was one database in mapmyrun and in mysports. It was the same.
In this moment they split this system and there is a own database of mysports.
Here is the problem. We cannot import extern tracks.
In the forum is written that the new webpage could import extern tracks.
So, we have to wait.
Sorry.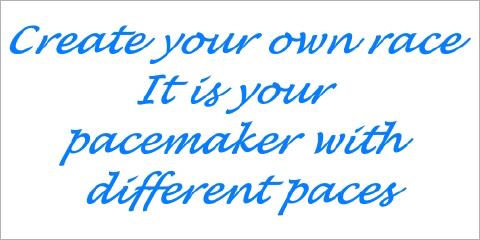 Hi,

this page helps you to create your own races for running-watches with race modus.

In this moment you could create the following tracks:

1. linear track - you give the distance and the time

2. 1 x period track - you give 1 distance and 1 pace

3. 5 x periods track - you give 5 distances and 5 paces

4. 10 x periods track - you give 10 distances and 10 paces

5. 21 x period track - you give 21 distances and 21 paces

The php-program calculate you special gpx-file and put this in a own window.
You save this and import to your watch.
After that you can make a race against your parameter.


Info: in the moment it works with the tomtom.

I have to change the gpx-file. After that it would be possible to use with Garmin, too (watches with race mode).

!!!! There was something changing at MySports-Page. In this moment there is a problem to upload the track. !!!!